Gambling is promoted and advertised everywhere – in corner stores, on TV, at the gas station. Even high schools and local service clubs have "Casino Nights". What is the impact, especially on youth, when gambling is made normal in this way without any information on risks to help people make choices about their involvement with gambling as entertainment?
Gambling advertisements affect public opinion on gambling and change our culture over time. The spoken and unspoken messages of these ads tell us that gambling is a fun and exciting activity (e.g. Casino Nova Scotia video below), and that the industry benefits our community (e.g. Nova Scotia Gaming Corporation video below).
Casino NS – TV Spot from Journeyman on Vimeo.
Support4Culture 30s Mermaid Theatre of Nova Scotia from Nova Scotia Gaming Corporation on Youtube.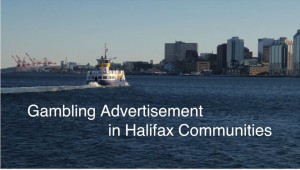 Of course, gambling activities are common outside of the official gambling industry. Through the work of a skilled Health Promotion student, Eric Hutt, and videographer, Everett Stone, Injury Free Nova Scotia has been able to partner in the creation of a really insightful video (seen on the right). Gambling Advertisement in Halifax Communities looks at the place gambling currently  has in our culture and on our billboards. It asks how we feel about gambling being a part of our daily lives, what the common messages are, and whether we are told about the risks.
After looking through the content on this page, here are a few questions to ask yourself:
Thinking back to the beliefs people used to have about gambling (See the Gambling Industry page here), how do I feel about the place gambling has in my culture today?
How do I feel about the amount of advertising for gambling activities displayed in my community?
What would I like to be told about the risks of gambling activities (bingo, scratch tickets, or slot machines) before I begin using them?
Want to learn more about gambling in our province? Visit The Nova Scotia Gambling Industry and the What happens to the money made from gambling pages!
---
Sources