POSTPONED: Safer Community Award to Wolfville Legion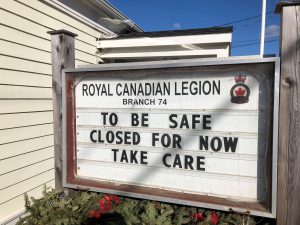 Due to the COVID-19 situation, all events at the Legion in Wolfville have been cancelled for the next while.
We will reschedule once things have stabilized.
Thank you for your interest and support!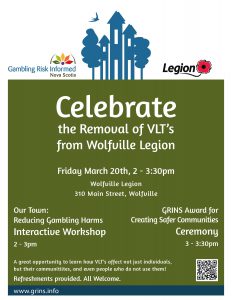 VLT's Removed from Wolfville Legion
Award for Creating Safer Communities to be Given by Gambling Risk-Informed Nova Scotia
Wolfville, NS: Video Lottery Terminals (VLTs) have wide-ranging impacts, affecting individual people as well as the different sectors in our community. This is why Gambling Risk-Informed Nova Scotia (GRINS) would like to acknowledge the Royal Canadian Legion's (Wolfville Branch) decision to remove the VLTs from their hall. Since that time the branch has more than doubled its membership and added activities.
On Friday, March 20th, from 2:00pm – 3:30pm GRINS will be presenting the Legion with their "Award for Creating Safer Communities," in the Legion's hall at 310 Main Street. Before the presentation, GRINS will run an interactive workshop called Our Town: Reducing Gambling Harms, which will show attendees how the presence of VLTs can lead to community harms. Those who wish will take on an identity of an "Our Town" community member and follow through some scenarios that can result from the presence of VLTs. Both the award ceremony and workshop are open to attendance from the public.
Reasons to Attend this Event:
Come and celebrate the Legion's decision to create a safer environment.
It is a great opportunity to learn how VLT's affect not just individuals, but their communities, and even people who do not use them!
It is a chance to reconsider the way we think about "problem gamblers," instead of "gambling problems" and how we can destigmatize people who have been harmed by gambling.
It is a chance for advocacy organizations to network and build relationships.
It is a chance for local businesses and organizations to consider the impact of removing VLT's from their own premises.